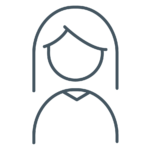 Shiri Atzmon
Graphic Designer
And also (or more importantly):
Explorer
Mother
Sunshine seeker
Bookworm
Worker-bee
Graphic Designer
As a Graphic Designer at SIT, Shiri helps the staff bring their ideas to life. Shiri is a master at translating thought processes and ideas into illustrations or visual works that sharpen and emphasize the message(s) facilitators are trying to convey.
Prior to SIT, Shiri worked for over two decades as a senior designer at a publishing house, where she created editorial layouts and designs for magazines and books. Shiri also worked as a freelancer, where she worked on branding, info-graphics, data-visualization and various projects. She is currently studying UX/UI (user-experience design) and excited to see how graphic design meets the digital world.
On the weekends, Shiri can often be found with her two girls at the beach. Motherhood has become her full-time job, but Shiri's hobbies reflect her eclectic personality: photography, beach volleyball, Kung Fu, and cycling to name a few.
+972-3-545-6000

shiria@sitsite.com

Languages:
English | Hebrew