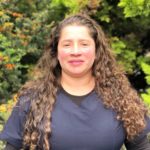 Andrea Tellez
Office Admin SIT Colombia
Office Admin SIT Colombia
Andrea joined the Colombia team in October 2011. Since then she has carried out different tasks including the maintenance in the office and the transportation of documents. Andrea has been developing her skills in various areas related to logistics and support.
She is a joyful person, always eager to learn and ready to help whenever she is needed. In the near future, Andrea will begin her training in computer skills, thus becoming great support for the team in a variety of tasks. Andrea will also take over the preparation of materials for our workshops and projects, and the coordination of hotels and ground transportation.
Mother of two children, Jurani and Nicolás, Andrea bestows her supportive and warm personality in her home and in the office.