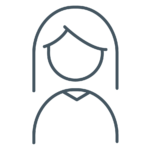 Hila Steinitz
SIT Studio
And also (or more importantly):
Gets Things Done
Aesthete
Mom
Good Listener
SIT Studio
Hila Steinitz is on the design and print studio team. She is a partner in the execution of major production projects and is responsible for both creative and technical aspects.
Hila joined SIT after a career in PR and production in the music and TV industries including work as a line producer in local Israel TV productions. She is passionate about design, arts, culinary and fashion matters and has undertaken several business initiatives in these areas including a specialized catering service for private events and a boutique fashion business of hand-made daily women's wear. She is an avid creator of sustainable artifacts as solutions to everyday life challenges.

+972-3-545-6000
hilas@sitsite.com

Languages:
English | Hebrew