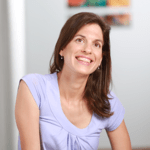 Michal Lokiec-Yarom
Innovation Facilitator
And also (or more importantly):
Psychologist
Chocolate Specialist
Traveler
Innovation Facilitator
In her consulting capacity, Michal has all the hallmarks of a long-distance runner, able to manage the complexities of long-term global innovation programs with a balance of discipline and diplomacy.
She brings a mixture of empirical innovation research and realism gained from her experience in the field and the academy. In parallel to her work as an innovation facilitator and project manager, Michal completed a thesis looking at the factors influencing successful implementation of ideas ("The Chronicle of an Idea") at the Technion, Haifa.
Michal pioneered the "SIT Inside" concept in which she relocated for several months to the US to serve as an in-house innovation catalyst for one of her clients.
Michal's talent and/or vice – depending on your vantage: she is definitely a chocoholic – loves to make, eat and experience chocolate with all the senses, which has clearly achieved genetic transfer to her son Omer and daughter Yarden.

+972-3-545-6000
michall@sitsite.com

Languages:
English | Hebrew | Portuguese