Part two of our series on the insights, content, and learnings gathered before & during our Behind the Scenes of Corporate Innovation meetup, co-hosted with our friends at 3M, focuses on SIT's 7 Elements Model for Organizational Innovation. This model was briefly introduced at the MeetUp as a framework to address the main challenges voiced by our corporate colleagues.
We would like to take advantage of this platform to share some of the basics of this straightforward yet powerful model with you. In a nutshell, the model allows organizations to analyze their innovation activity or, as it is referred to in our model, take their Innovation Pulse, and plan a focused and customized innovation strategy based on their analysis.
The model was created as an output of 24 years of experience, working with over 1400 companies, identifying patterns and efficient processes that led to useful strategies. Over time, we formulated a set of tools that can transform an organization into an innovative organization that continuously innovates and maintains its competitive advantage.
Working with the 7 Elements Model brings three significant results:
1)     Assesses your current situation in respect to innovation ("the Innovation Pulse")
2)     Defines your goals and objectives
3)     Draws an initial Road Map for achieving these objectives
How does it work?
The first step is to assess and chart, on a diagram, the organization's current efforts according to 7 distinct—yet extremely interconnected—innovation elements (please refer to diagrams below for both a description of each of the elements and a sample assessment).
7 Elements Descriptions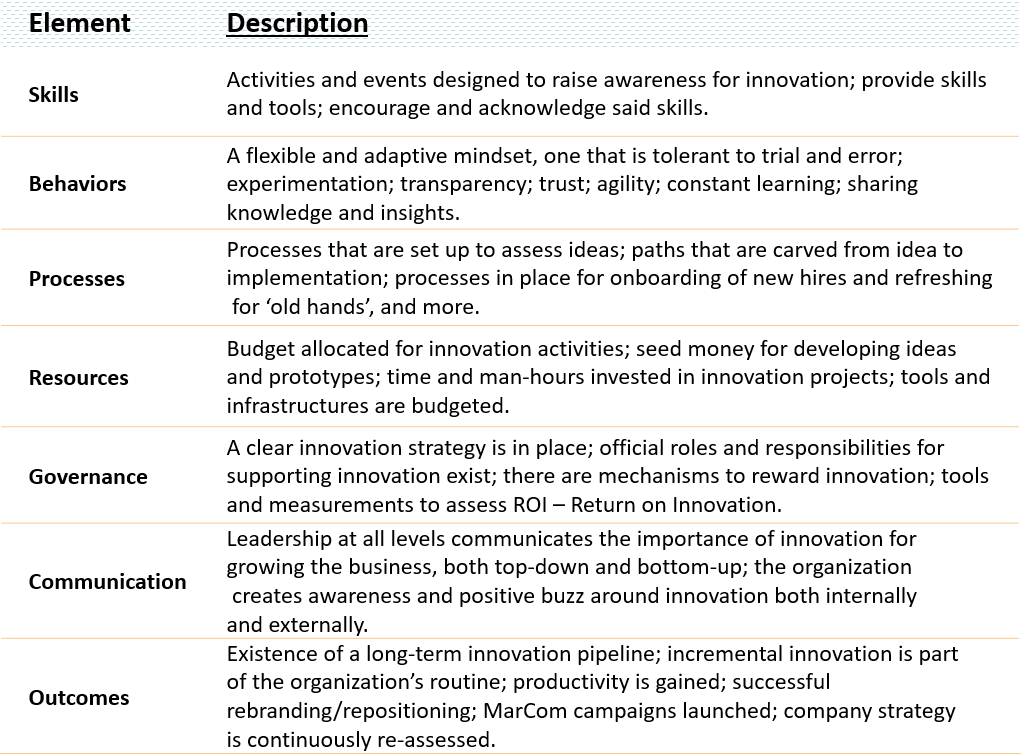 Example of 'Innovation Pulse diagram'
Desired State & Mapping the Gap
This output allows you to view a clear picture of current innovation activity in the organization and areas that require improvement, thus allowing you to build a second, complementary diagram, an ideal model of your desired state in terms of innovation (see picture below).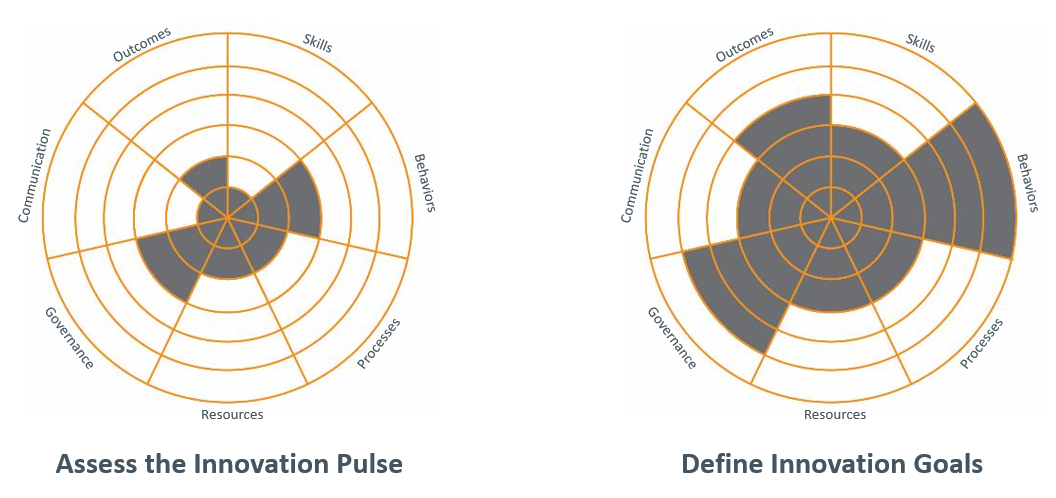 Defining Your Course of Action
The two diagrams can then be compared to identify the gaps and determine priorities. This allows you to determine a course of action to close the gaps to achieve the desired state. SIT can assist in this task, working in one or several of the following modalities:
a)     Training
b)     Facilitation
c)     Consulting
d)  Outsourcing
This process gradually engages all parts of the organization by creating networks involving continuous learning, challenging assumptions, and systematic monitoring of results.
The valuable task of transforming into an innovative organization is, without a doubt, a demanding journey, yet one that can be made to be simpler, clearer, and well managed using SIT's experience as expressed in the 7 Elements Model.