In today's article we continue with insights, content, and learnings shared before, during, and after our Behind the Scenes of Corporate Innovation meetup, co-hosted with our friends at 3M.
SIT's "7 Elements" Model for Organizational Innovation was briefly introduced at the meetup as a framework to address the main challenges voiced by participants. Since then, we have further developed the model to serve as a robust strategic planning tool for cross-organizational innovation programs.
We use this article as a medium to share how the model allows organizations to take their Innovation Pulse: analyze their current state to plan a focused and customized innovation strategy with clear metrics. The model is the brainchild of our 26 years' experience working with over 1400 companies in 75 countries. Over time, we formulated what parameters need to be taken into account when developing and managing a sustainable practice of innovation diffused throughout a (multicultural) organization.
Working with the 7 Elements Model brings you three significant results:
1)     Assessment of your current situation in respect to innovation ("the Innovation Pulse"). Create a baseline measurement for where you are at the start of the process.
2)     Definition of your objectives for how the innovation program will help your organization achieve its strategic business goals
3)     A roadmap for achieving these objectives.
HOW DOES IT WORK?
I. ASSESS & VISUALIZE
The first step is to assess and plot on a diagram, the organization's current efforts according to the 7 distinct—yet extremely interconnected—elements needed for a sustainable innovation capability in the organization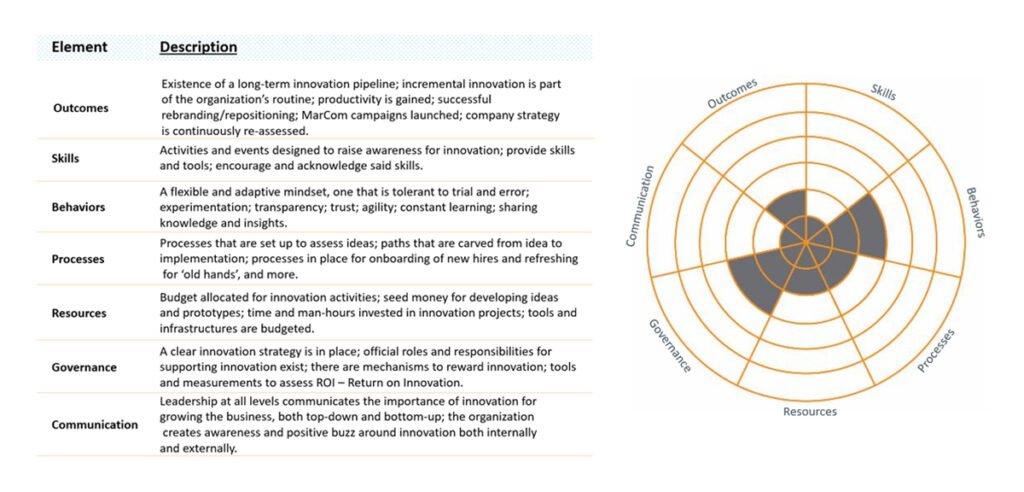 II. DESIRED STATE & MAP THE GAP

The assessment allows you to view a clear picture of current state of activity and satisfaction in the organization along with areas that could/should be improved. A second diagram, an ideal model of your desired state in terms of innovation and how it can serve your business's strategy will be created in parallel. The gaps between these 2 states will dictate objectives for creating the action plan.
III. DEFINE YOUR PLAN OF ACTION
Strategic discussions regarding the gaps and resource allocation will determine priorities, speed and scope of implementation, as you move closer to the desired state. SIT assists in building the plan and delivering the transformation through a variety of formats including:
Facilitation
Consulting
Training
Outsourcing
The task of transforming into a highly innovative organization is, without a doubt, a demanding journey, yet one that is worthwhile and can be made simpler, clearer, and better-managed using the 7 Elements Model.