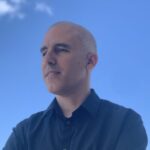 Allon Sasson
Innovation Facilitator
And also (or more importantly):
Perpetual curious
Blogger
Ex-intrapreneur
Innovation Facilitator
Allon is an experienced director of strategic planning, business development and technology innovation.
During a 20 years career in the office of the Prime Minister of Israel, Allon led cross-functional large scale teams of engineers, data scientists and intelligence analysts.
Allon is helping managers and startup companies identify opportunities and threats, define their strategy and plans accordingly and achieve their goals.
He loves life on the edge, where each day looks different from the day before, and uncertainty dominates.
His passion is using his experience to train and mentor young entrepreneurs, focusing on projects with educational value. Allon takes part in few initiatives aiming at transforming formal and informal education to better suit current and future challenges.

allon@sitsite.com

Languages:
Hebrew | English | Arabic