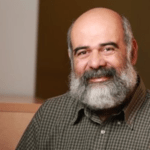 Guzu Shalev
Innovation Facilitator
And also (or more importantly):
Thinks Out Loud
Assumption Challenger
Org. Consultant
Re'ei & Kesem's dad
Innovation Facilitator
With 23 years working with the SIT methodology, Guzu is one of SIT's most senior and experienced facilitators.
Specializing in New Product Development, Problem Solving, MarCom and Strategy, Guzu has an impressive track record leading projects in the commercial field. He also works with government agencies, the military and non-profit organizations around the world. His clients include BP, Kraft, IAI (Israel Aerospace Industries), Ethicon Endo-Surgery – a Johnson & Johnson company, Comverse, Alcan, and many more.
In addition to his work with SIT, Guzu is a management consultant, experienced in coaching and team building, and in enhancing the quality of service processes in organizations.
Formerly, Guzu was on the consulting team of the Schwartz Program for Management Development at the Hebrew University in Jerusalem, and the former training director of The Yoseftal Institute.

+972-3-545-6000
Guzu@sitsite.com

Languages:
English | Hebrew