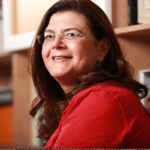 Hila Pelles
CFO & Innovation Facilitator
And also (or more importantly):
Software Designer
Shahar & Itai's Mom
e-learning Consultant
Choir Singer
CFO & Innovation Facilitator
As CFO at SIT, Hila is responsible for developing and maintaining the company's financial and operations management, including Business Intelligence and Pricing Models. She also acts as mentor to novice Facilitators, guiding them through their period of orientation and integration at SIT.
Hila specializes in Facilitating Hi-Tech and complex technologies. As a Senior Facilitator and Trainer in SIT's innovation method, she has personally led broad strategy development projects – with a focus on Productivity and Efficiency – for many well-known companies such as Johnson & Johnson, SanDisk, BMC. She spearheaded tactical New Product Development and Problem Solving projects with Emerson Electric, SAP, Checkpoint, Camtek, and Infineon.
Formerly CTO of Britannica.com Israel, Hila's expertise in software development and computer-based in education is considerable. She holds a B.Sc. in Mathematics Magna Cum Laude from Tel Aviv University. To round off her busy schedule, Hila also sings alto at her local choir.

+972-3-545-6050
hila@sitsite.com

Languages:
English | Hebrew