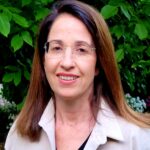 Iris Arbel
General Manager, Israel Operations
General Manager, Israel Operations
Iris Arbel has over 15 years of experience in managing innovation and developing innovation cultures in companies.  She has a Ph.D. from the Technion, one of the world's leading science and technology research universities. Her doctoral research focused on harnessing creativity within teams to foster innovation.
Over the last ten years, Iris has been a partner in setting up and managing the day-to-day of the Knowledge Centre for Innovation at the Technion, promoting innovation in the Israeli economy at the national level by consulting and influencing policy making.
For the past four years, she has served as a VP for Strategy and Innovation at Tadbik.
Most recently, Iris has developed tools and methods for promoting innovation in both social and business sectors by pioneering new entrepreneurship models.
Iris also serves as an academic advisor and lecturer for Entrepreneurship at 3 of Israel's top academic institutions: Tel Aviv University, the Technion, and the IDC.