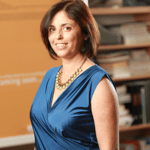 Nurit Shmilovitz-Vardi
Innovation Facilitator
And also (or more importantly):
Naturally inquisitive
Plant Mom
Yogi
DMD
Innovation Facilitator
As a senior facilitator, Nurit leverages her interpersonal skills, business savviness, and scientific background, together with her years of experience as a facilitator at SIT to most effectively engage and work with her clients to achieve their desired goals and business targets.
Nurit is accomplished in all of SIT's applications, including New Product/Service/Process Development, Organizational Innovation, Digital Transformation, Strategy, Business Model Development, and MarCom. Nurit's key clients include Bayer, 3M, Playtika, Rogers Corporation, BASF, as well as countless work with municipalities, NGOs, and healthcare organizations.
When not traveling the world facilitating projects, Nurit promotes SIT's Online Academy, which she helped to establish. She continues to develop the flagship online courses to address the needs of different audiences across geographies and industries.
Nurit's rich and varied background highlights her insatiable curiosity, flexibility, and passion for the new. Prior to joining SIT, she worked as a dentist for five years, in the pharma industry as an international product manager, in a private equity fund, and studied couples' therapy. When not traveling for work, Nurit enjoys spending time with her husband and two children and caring for her rooftop full of plants.

+972-3-545-6018
nuritv@sitsite.com

Languages:
English | French | Hebrew