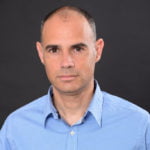 Udi Yerushalmi
CEO
And also (or more importantly):
Surfer
Value investor
Sherlock Holmes & Hercule Poirot fan
CEO
Udi brings a depth of professional experience as a manager, advisor, reformer, and promoter of corporate social responsibility from his work in both the public and private business sectors, in public broadcasting, global investment, and banking during periods of major organizational and technological challenges.
As Chief of Staff and Deputy CEO of Israel's premier and most successful Radio Station (GLZ/GLGLZ) with some 300 staff, he guided the stations through a major period of change over five and half years, managing the complete range of corporate, financial, strategic and organizational functions, introducing entrepreneurial and innovative approaches to ensure increased growth and profitability of the station.  With overall responsibility for the operation of the station, Udi headed up strategic planning and policies, marketing and sales, financial legal and regulatory affairs, organizational restructuring, and introduced strategic partnerships and joint ventures. During his time there, Udi launched six new successful digital radio stations and several new digital platforms.
Prior to this, Udi served as Advisor to the Chairman of the IBA (Israel Broadcasting Authority), where he was instrumental in successfully promoting important public legislation governing the IBA, reforming sales strategy, managing big scale contracts, and realizing dormant company assets.
Working in the private sector beforehand, Udi served as Marketing Manager for the Arison Group, a major global investment banking firm, and as an Advisor to a board member in the field banking and real estate. During this time, he took charge of the group's marketing, advertising and branding programs, establishing new-media platforms and initiating partnerships across the branding sector. Within the realm of corporate social responsibility, Udi also lead the strategy of "Good Deeds Day" – a highly acclaimed manifestation of corporate social responsibility and served as a donation committee member for one of Israel's biggest philanthropic foundations.
Udi studied Political and Social Sciences in Tel Aviv and is a graduate of the Maoz Program for public and social entrepreneurship and professional leadership.
He is fluent in English and Hebrew and open-minded about the multiple challenges of working with SIT affiliates and clients wherever they are located worldwide.

+972-3-545-6000
udiy@sitsite.com

Languages:
English | Hebrew