Many years ago, I presented what I considered to be a very cool project to an extremely smart VP of Marketing in a large B2C company on the East Coast of the US. Fortunately, she shared my enthusiasm, and the process of engaging us for the project was running along nicely. It was an ambitious and somewhat risky project in the sense that it required the involvement of about 20 high-level managers who were very skeptical about its chances of success. This put "my" VP in the stressful position of either ending up as the initiator of notable success or being forever remembered as the perpetrator of a huge mistake (could she embrace failure?).
At some point, she asked me: "Can we make absolutely sure this will succeed?"And, silly me, I answered with a big smile: "Of course not. Don't you remember? One of our key messages in this project is that if you innovate you must embrace the risk of failure. So since we are designing such an innovative project, of course, there is a risk that it will fail." Obviously, we didn't get the project, because, regardless of the oft-quoted cliché, nobody really wants to "celebrate failures". People want successes. And if there is one thing they will avoid at all costs, it is failure.
Embracing Failure, the Contradiction
There seems to be a contradiction: We want to think ahead. We want to try new things. We want to innovate and embrace failure as part of the inventive process. At the same time, we want to be in control of our outcomes. We cannot afford to make mistakes.
This leads to a dilemma: Companies encourage their employees to fail and learn. But they expect them not to fail.
Failures are at best unwanted – at worst systematically concealed, to avoid blame or punishment. Pressure is a means of control. The result: a fear of failure.
The prevalence of fear of failure in companies is alarming considering how paralyzing it can be for the companies' development.
Three reasons for this troublesome effect:
1. Risk Aversion
Here is one cliché that is absolutely true: Failure is an essential part of innovation. When prototyping a new product, expect failure. That's what prototypes are for, and that is why you will work on several consecutively, or even in parallel. Therefore, the maxim fails fast and try again.
But, if every failure is considered a mini-disaster, who wants to even consider risking it? Rather, the ultimate goal is to achieve full control of the process. Hence, any change or novel idea is treated as a potential threat.
2. Loser-phobia
If one strives to overcome one's Cognitive Fixedness, a fundamental tool is the ability to reflect on one's actions and to engage in metacognition (a reflection on one's thinking processes). Every failure thus becomes a source of learning and a driver of change.
But, when your failures are perceived as a sign of being a "loser," what are the chances that you will actually take the time to confront your failures, reflect on them, and draw useful conclusions?
3. Who? Me?
In cultures that do not truly accept failures, there is a strong incentive to underreport them and to avoid any public reference to them, let alone an open analysis.  This greatly increases, obviously, the probability that the same mistakes will be repeated. A good litmus test: Ask anyone who tells you that you should "embrace failure", if they are willing to share a recent one of their own. Most chances are they won't, and that tells you what you will be risking if you share yours.
You probably agree that it can be very beneficial to embrace failure in certain areas – in an honest and consistent manner. But in other areas, we cannot allow for mistakes. The point is, to make this distinction explicit and communicate it to everyone involved. Clarity is key.
Instead of pretending to universally embrace failure, you map out areas in which failing is acceptable. Then, you commit yourself to this map.
Here are some actions you may consider to embrace failure:
Mark your "control towers"
Imagine working in a control tower. There is obviously no way to embrace failures here. Imagine an airport with 5000 landings and take-offs per month. a mistake rate of 0.01% would imply 5 crashes per month. There are such "control towers" in every company. In some areas, even if a leader doesn't care to admit it, failure is not an option. Being explicit about your "control towers" is crucial, if you want people to avoid these specific mistakes at all costs. Only then, everyone is on the same page: We give our best to prevent failure and if it happens, we report it. In other areas, the expectation might not be as clear.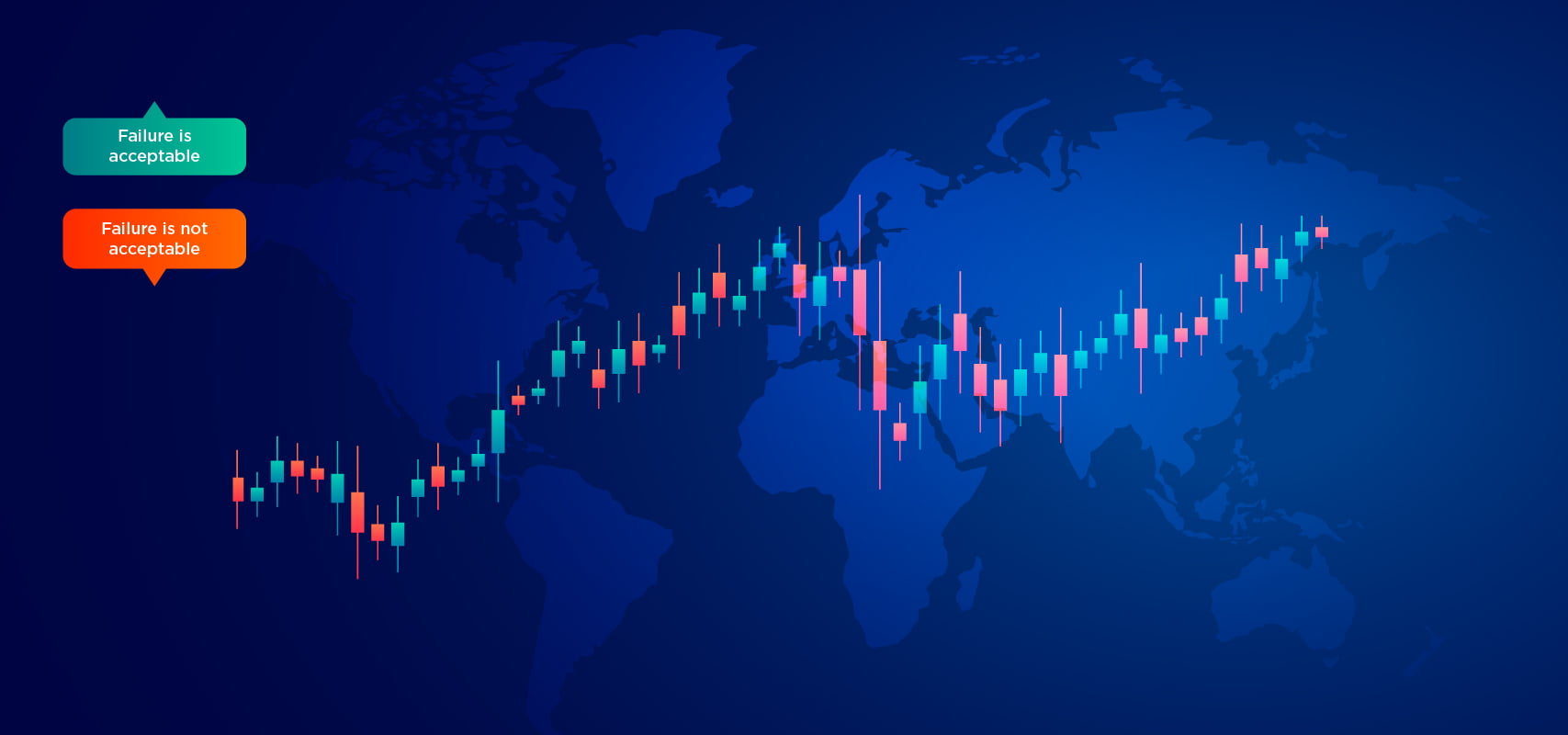 We suggest three mechanisms: define roles, draw lines and install safety nets.
When defining roles, you assign to a specific group of employees the role of innovators. It is then clear to everyone that this group will generate ideas, try new things – and occasionally fail. Your "innovators" will enjoy the freedom to explore and develop new ideas. At the same time, they will be accountable for their failures as part of the process.
Drawing lines means, defining which parts of a project are open to experimentation and those that are not. Within the defined lines, failure is acceptable. Innovation is welcome.
Safety nets are a similar idea, on a different level. To limit the impact of failures, you innovate in specific areas, e.g. those that are not part of your core business.
In defining roles, drawing lines and installing safety nets, we map out areas in which failures are acceptable. Only then we can truly claim: We embrace failure. Feel free to innovate.
In addition to the above actions, you can also utilize some advice from experts on the subject. 
Have a backup plan
Leon Ho says that it never hurts to have a back-up plan. The last thing you want to do is scramble for a solution when the worst has happened. "Hope for the best, prepare for the worst." This old adage holds solid wisdom. Having a backup plan gives you more confidence to move forward and take calculated risks.
Perhaps you've applied for a grant to fund an initiative at work. In the worst-case scenario, if you don't get the grant, are there other ways you could secure the funds? There are usually multiple ways to tackle a problem, so having a back-up plan is a great way to reduce anxiety about possible failure.
Leon Ho (https://www.lifehack.org/articles/lifehack/how-fear-of-failure-destroys-success.html)
Identify the consequences
Theo Tsaousides says that in order to attenuate fear of failure, first identify the consequences of failing that scare you the most and evaluate your ability to deal with these consequences. Instead of talking yourself out of the fear by hoping that nothing negative will happen, focus on building confidence to deal with the consequences.
Here are some questions to ask yourself:
Which of these consequences scare you the most?
How much impact will they have on you? Are they merely unpleasant or life-threatening? Will they just make you feel uncomfortable, or will they hurt you deeply and irreparably?
How quickly will you move on? Are the consequences permanent or reversible? Are they short-lived, or will they linger forever?
How well can you handle them? Can you exercise damage control, or will you hide and disappear?
Theo Tsaousides (https://www.psychologytoday.com/us/blog/smashing-the-brainblocks/201801/how-conquer-fear-failure)
Now that you're equipped with the knowledge, it's your turn: Tell us about YOUR experience in dealing with a Fear of Failure and check out one of our latest article on how to manage airtime!