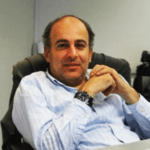 Roberto de La Pava
Managing Director SIT Colombia
Managing Director SIT Colombia
A visionary entrepreneur, internationally awarded business leader and facilitator of new ideas, Roberto is Managing Director of SIT Colombia and heads up Business Development for SIT across Latin America.
​Roberto has held frontline positions in both the Colombian public and private sectors, serving on the Board of Directors of ETB S.A., Codensa S.A, and Transmilenio S.A., and as General Director of Coldata S.A. and TVG S.A.
​In 2011 he held the position of Sub-secretary of Finance for the city of Bogotá, where he instigated a successful innovation process awarded the District's Management Award.  He is also an active member of the "Foro de Presidentes" a community of 180 business leaders that generate wealth for Bogotá through social responsibility initiatives.
​In his Business Development role at SIT, Roberto is well positioned to fulfill his conviction that innovation is the key to continuously improving life be it social, personal and professional.
​Roberto enjoys good literature and tries to add to his astronomy knowledge every day.

+57-315-338-2659
roberto@sitsite.com

Languages:
English | Spanish